 SHEET LABELS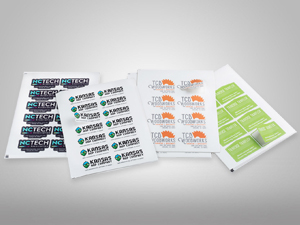 Sheet labels come supplid on pre-cut A4 sheets. Available in a wide range of shapes and sizes to suit any product, brand, or business. 160gsm Uncoated Adhesive, Synthetic White Adhesive, or Synthetic Clear Adhesive
Sizes
A4
Related products
COASTERS


Coasters are available in Circle, Square, and Rounded Square options. They are printed onto thick, absorbent material and are suitable for both hot and cold drinks. They have a naturally soft and tactile surface with a luxurious feel. Perfect for special events and everyday hospitality use alike! Covid Special- Make sure everyone has easy access to the Check In QLD App by printing the QR code and instructions onto your branded coasters.

Suggested Stock
355gsm Beermat Board

Finishing & Options
Circle, Square, or Rounded Square

Sizes
95mm W

PLASTIC MEMBERSHIP CARDS


Bring your membership program up to the next level by providing plastic membership cards. These cards are sturdy and can be personalised with barcodes and names.

Suggested Stock
White PVC or Clear PVC

Finishing & Options
Roundcorners

Sizes
90mm x 55mm

CORFLUTES


Made out of a corrugated plastic material, these signage boards are both lightweight and durable. Artwork is printed in high resolution, full digital colour, directly to the corflute. Perfect inserts for our A-frames or used on their own for real estate signs, events, construction and building site signs. Available with eyelets to make installation simple.

Suggested Stock
5mm or 10mm Corflute

Finishing & Options
Metal Corner Eyelets

Sizes
600mm x 900mm, A1, A0

LOYALTY & APPOINTMENT CARDS


Many businesses are seeing success after implementing a Loyalty Program and utilising loyalty cards. Appointment cards are essential for many businesses and help clients keep their appointment details safe. Loyalty and Appointment Cards are both printed on uncoated stock so that they can be easily marked using stamps, card punches, pens, and even pencils! Hassle free, every time. With the optional soft lamination on the front side these cards have a high end feel without sacrificing practicality.

Suggested Stock
300-350gsm Uncoated

Finishing & Options
Celloglaze Front Side

Sizes
90mm x 55mm or 86mm x 54mm.